Resize PDF In KB
In today's digital age, submitting PDFs to online portals for jobs, admissions, or other purposes has become increasingly common. However, these portals often impose strict size restrictions on the PDF files, leaving users in a dilemma. That's where Pi7 PDF Tool comes to the rescue. With our easy-to-use online tool, you can quickly and efficiently resize your PDF files to meet the desired KB size, ensuring hassle-free submissions every time.
Why Choose Pi7 PDF Tool For Resize PDF in KB?
Effortless PDF Resizing: Pi7 PDF Tool simplifies the process of resizing your PDF files to your preferred KB size. With just a few clicks, you can compress your documents, ensuring they meet the specific requirements of online portals.
Multiple PDFs in One Go: We understand that time is of the essence. That's why Pi7 PDF Tool allows you to process up to three PDF files simultaneously, saving you valuable time and effort.
Tailored for Online Submissions: Our tool is tailor-made for individuals who need to submit PDFs to online portals with strict size limitations. Whether it's a 200KB, 100KB, 50KB, or any other size requirement, Pi7 PDF Tool has you covered.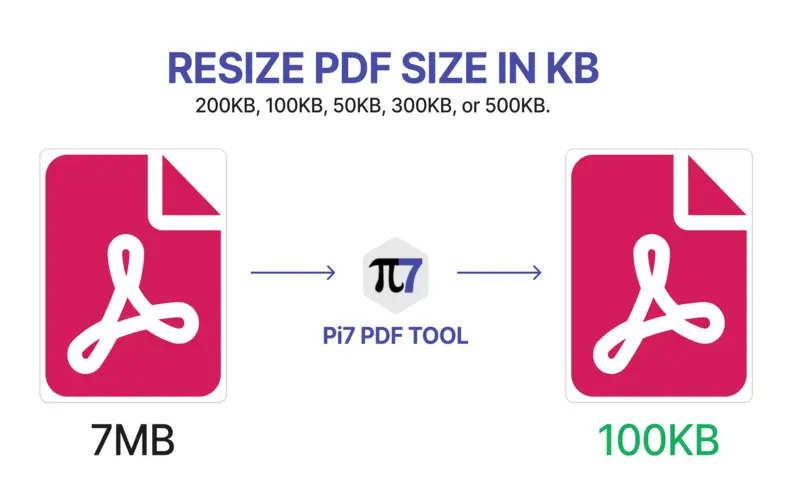 How to Resize PDFs with Pi7 PDF Tool:
Upload Your PDFs: Begin by uploading your PDF files to the tool. You can select up to three documents at once, making batch resizing a breeze.
Set Your Desired KB Size: Input the desired KB size to which you want to resize your PDF files. Use our predefined options like 200KB, 100KB, 50KB, 300KB, or 500KB, or specify a custom size.
Click 'Resize': Once you've selected the desired settings, simply click the 'Resize' button, and let Pi7 PDF Tool work its magic.
Download Your Resized PDFs: Within moments, your resized PDFs will be ready for download. You can now confidently submit them to online portals without worrying about size restrictions.
If you ever find yourself in a situation where you need to increase the size of your PDF files, Pi7 PDF Tool offers a complementary tool for that purpose. Visit Increase PDF Size to expand your PDFs to any desired size effortlessly.
Comparing PDF Size Before and After Resizing with Pi7 PDF Tool
| PDF Document | Original Size (KB) | Resized Size (KB) | Percentage Reduction |
| --- | --- | --- | --- |
| Document 1 | 550 KB | 150 KB | 73% |
| Document 2 | 320 KB | 90 KB | 72% |
| Document 3 | 430 KB | 120 KB | 72% |
| Document 4 | 600 KB | 180 KB | 70% |
In this table, we've showcased the original size of various PDF documents and the size they were reduced to after using Pi7 PDF Tool. As you can see, our tool consistently delivers significant reductions in file size, making it easier to meet size restrictions for online submissions. With an average reduction of around 72%, Pi7 PDF Tool ensures your PDFs are optimized for hassle-free online submissions.
Conclusion:
Pi7 PDF Tool is your go-to solution for resizing PDFs to meet stringent KB size requirements. Say goodbye to frustrating size limitations and ensure your documents are always submission-ready. Try our tool today and experience the convenience of resizing PDFs with ease.
Don't let PDF size restrictions hold you back—resize your PDFs in KB effortlessly with Pi7 PDF Tool!
Subscribe Us On Youtube
Give Us A Suggestion
Suggest us, how we can improve this tool according to your requirements.