Resize PDF - Pi7 PDF Tool
Are your PDF documents too large or too small for your needs? Our online PDF Resize tool has you covered! Whether you want to increase or decrease the size of your PDF files, we make the process quick and effortless. With a focus on user convenience, our tool ensures that your PDF documents are tailored to your specific requirements.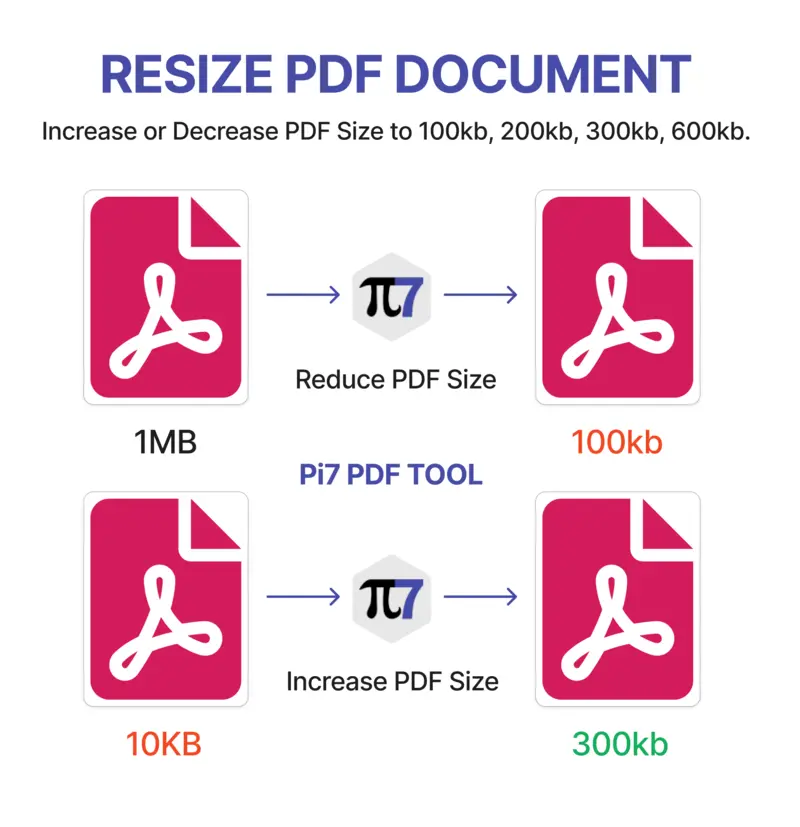 Key Features
Pi7 PDF resizer tool offers a wide range of features designed to make the process of resizing PDF documents quick, easy, and efficient. Whether you're a business professional looking to optimize your PDFs or an individual seeking to manage document sizes effectively, our tool has the features you need to accomplish your goals. Below, you'll find a detailed breakdown of the key features that set our tool apart:
Resize PDF Documents: Pi7 PDF resizer can easily adjust the size of your PDF documents, giving you full control over the output.
Resize PDF Online: No need to download or install any software. You can resize your PDFs directly in your web browser, making the process hassle-free.
Precise KB Range: Tailor the size of your PDFs to your exact needs. Whether you want to resize your PDF file to 100KB, 200KB, 300KB, 500KB, or any other specific size, our tool makes it simple.
Increase or Decrease Size: Need to increase your PDF size for better quality or decrease it for easier sharing? Our tool handles both tasks seamlessly.
Efficient PDF Size Management: Whether you want to shrink a PDF size to save space or enhance the quality by increasing the size, our tool has you covered.
| Feature | Description |
| --- | --- |
| Supported File Formats | Our PDF resizer tool is exclusively designed for PDF (Portable Document Format) files, ensuring it's tailored for the job. |
| Resize Options | Whether you need to increase or decrease the size of your PDF, our tool provides you with the flexibility to achieve your desired file size in kilobytes (KB). |
| Maximum File Size | With support for files up to 10MB, you can work with a wide range of PDF documents. |
| User-Friendly Interface | We've developed a simple and intuitive user interface, making it easy for users of all levels to navigate through the resizing process effortlessly. |
| Accessibility | Our tool is web-based, accessible from any device with an internet connection, allowing users to resize PDFs from anywhere. |
| Speed | Expect rapid resizing of PDFs in seconds, eliminating the need for time-consuming processes. |
| Quality Preservation | Rest assured that our tool maintains the original quality of your PDF documents during the resizing process. |
| Privacy and Security | We prioritize the privacy and security of your uploaded PDFs, ensuring their confidentiality throughout the resizing process. |
| No Software Installation | Users can access our tool without the hassle of downloads or installations, saving time and storage space. |
| Customized Sizing | You have the freedom to specify the precise file size in kilobytes (KB) to meet your unique requirements. |
| File Retention | We offer secure storage for your files for a limited period, giving you peace of mind. |
| Compatibility | Our PDF resizer works seamlessly on all major web browsers, ensuring a smooth experience for every user. |
These features collectively make Pi7 PDF resizer tool a valuable resource for individuals and businesses looking to manage their PDF documents efficiently. Whether you need to reduce the file size for sharing or increase it for better quality, our tool is designed to meet your specific needs with ease and convenience.
How to Resize PDF Using Pi7 PDF Resizer:
Upload Your PDF: Simply upload your PDF file using the "Select PDF" button.
Select Your Desired Size: Specify the desired size in kilobytes (KB) to which you want to resize your PDF. You can choose from options like 100KB, 200KB, 300KB, 500KB, and more.
Resize PDF: Click the 'Resize PDF' button, and our tool will instantly process your PDF, adjusting its size according to your input.
Download Your Resized PDF: Once the process is complete, you can download your resized PDF, which will be perfectly tailored to your requirements.
Why Choose Pi7 PDF Resize Tool:
When it comes to resizing PDF documents, we understand that you have choices. However, Pi7 PDF Resize Tool stands out for a multitude of reasons. With a commitment to providing a seamless user experience, top-notch quality, and robust security, here's why you should choose our tool: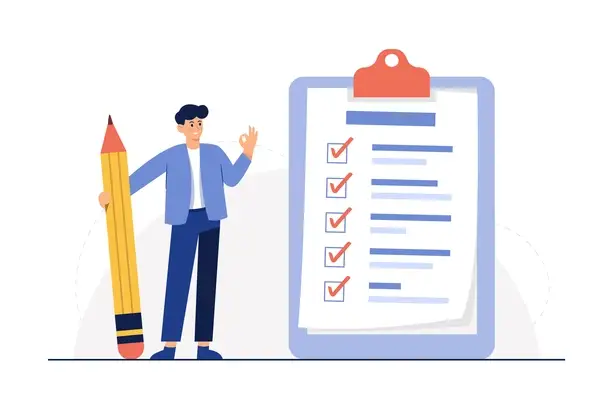 User-Friendly: Our online tool is incredibly easy to use. You don't need any technical expertise to resize your PDF documents.
Instant Results: Resize your PDF documents in seconds. No need to wait or endure lengthy processes.
Online Convenience: As an online tool, you can access it from anywhere, on any device with an internet connection.
No Downloads: Pi7 PDF Resize tool works entirely in your web browser, eliminating the need for downloads or installations.
Precise Sizing: Specify your desired size in KB, and our tool will deliver PDFs that match your exact requirements.
Don't let unwieldy PDF sizes slow you down or compromise the quality of your documents. Use our PDF Resize tool to tailor your PDFs to your needs. Whether you need to resize, increase, or decrease the size of your PDF files, we've got you covered. Try Pi7 PDF resizer today for a seamless and efficient resizing experience!
Resize PDF Now
For Image Conversion or Extraction Needs: If you're looking to convert PDF documents into images or extract all images from PDF pages, we've got you covered. Our sister tool, PDF to JPG Converter, allows you to seamlessly transform your PDFs into high-quality image formats, providing a versatile solution for image extraction and conversion tasks. Give it a try for all your image-related PDF needs!
Subscribe Us On Youtube
Give Us A Suggestion
Suggest us, how we can improve this tool according to your requirements.