Increase PDF size
Increase PDF file size to any specified level. With the Pi7 PDF tool, you can increase PDF size to 100kb, 200kb, 300kb, 500kb, and 1MB, etc. in a couple of seconds. It is easy to reduce the size of a PDF using various tools, but there is only Pi7 Tool that can increase the size in kb up to a certain value. Sometimes portals ask you to upload a 100kb PDF file. So if you have a 50 KB PDF, you just need to upload the PDF to our tool and you can resize its size to a certain level.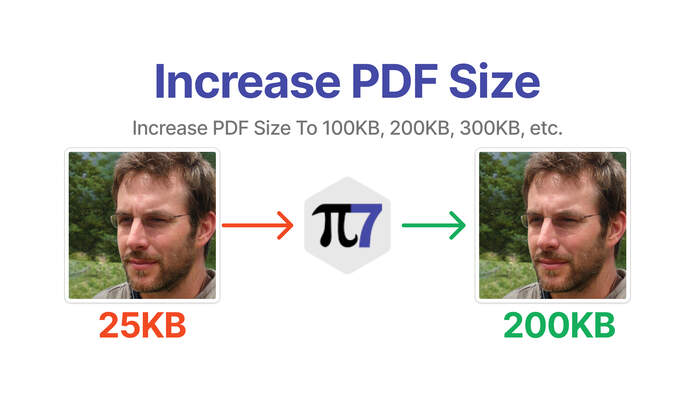 In this guide, we will look at how to resize a PDF file to any specific level in simple steps; So, let's get started.
How to Increase PDF size?
The process of increasing size is so simple. In simple 4 steps, you can achieve desired PDF size. Just follow the steps given below:-
Choose a PDF file from your device for resizing.
Enter 200kb or any size(100kb, 300kb, 500kb) in the input box above.
Click on the "Increase Size" button and wait for processing.
Done! size of your pdf file is increased to 200kb.
Look it's that simple to increase PDF size. But if you want to compress the PDF size to 100kb again then you can take a look at our PDF Compressor tool.
Keep the size at 1MB or 2MB
In any case, if there is a requirement to increase the PDF size to 1MB or 2MB then you can resize your pdf with our Pi7 PDF Tool. Here, you can maintain a PDF size between 1MB to 2MB or any other specific size. Also, There will be no change in page size even after increasing the file size. The quality of the PDF files remains the same.
Thank you. We hope you find this guide useful.
Subscribe Us On Youtube
Give Us A Suggestion
Suggest us, how we can improve this tool according to your requirements.