Compress PDF to 10MB
Compress your PDF files to 10MB or less with our free PI7 PDF Compressor tool. PDF files are commonly used for business, education, and personal purposes. However, these files can quickly become large, making them difficult to share and store. Luckily, there is a solution to this problem: PI7 PDF Compressor.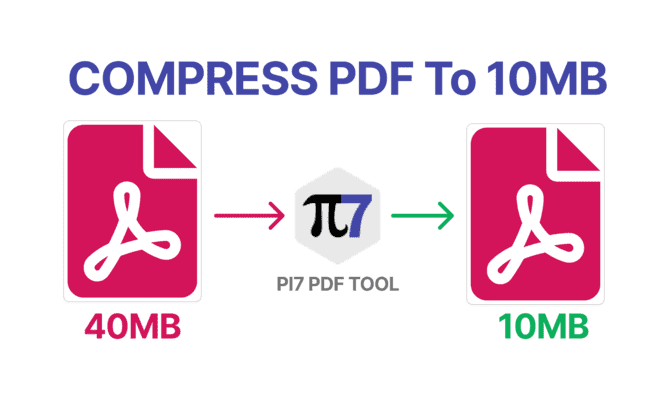 In this article, we'll show you how to use this free online tool to compress your PDF files to 10MB or less.
Step-by-Step Guide:
Step 1: Upload Your PDF File
The first step is to go to PI7 PDF Compressor and click the "Choose File" button to upload your PDF file. You can also drag and drop your file into the upload area. Once the file is uploaded, the tool will automatically start processing it.
Step 2: Select the Compression Level
Next, choose the compression level you want to apply to your PDF file. PI7 PDF Compressor offers four different compression levels: Extreme, Recommended, Basic, and Low. For compressing your PDF to 10MB, we recommend choosing the Recommended compression level.
Step 3: Compress Your PDF to 10MB
Once you have selected the Recommended compression level, click the "Compress PDF" button to start the compression process. PI7 PDF Compressor will quickly compress your file, and you will see a progress bar indicating the remaining time.
Step 4: Download the Compressed PDF
After the compression process is complete, PI7 PDF Compressor will provide you with a download link for the compressed file. Click on the link to download the file to your computer.
Step 5: Check Your Compressed PDF
Finally, it's important to check your compressed PDF to ensure that it still looks good and is readable. Open the compressed file to check its quality, and ensure that the file size is no larger than 10MB.
However, if you want to compress a PDF file to a size other than 4 MB, you can use our tools: - "Compress PDF to 1MB", "Compress PDF to 5MB", etc.
Conclusion:
Compressing your PDF files to 10MB or less is an effective way to reduce the size of your files without losing quality. With PI7 PDF Compressor, this process is quick and easy. By following the simple steps outlined in this guide, you can successfully compress your PDF to 10MB or less. So give it a try today and enjoy the benefits of smaller PDF files!
Subscribe Us On Youtube
Give Us A Suggestion
Suggest us, how we can improve this tool according to your requirements.