Compress PDF to 4MB
Introduction:
If you run a website or business, you may need to compress your PDF to 4MB. These files can quickly become large and unwieldy, making them difficult to share or store. Fortunately, there's a solution: PI7 PDF Compressor.
With PI7 PDF Compressor, you can reduce the size of your PDFs without sacrificing quality. In this post, we'll show you how to use this free online tool to compress your PDFs to 4MB or less.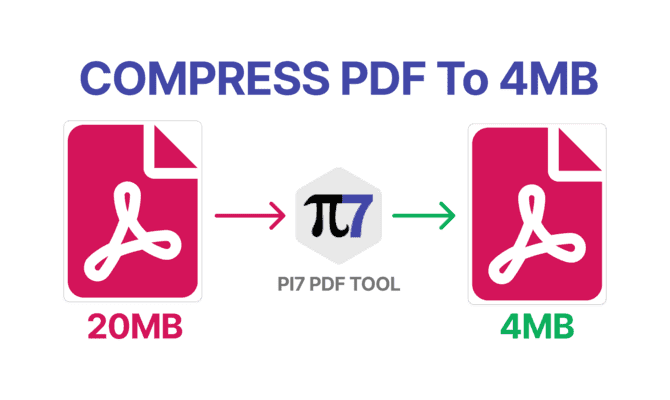 Step 1: Upload your PDF
To get started, visit the PI7 PDF Compressor website and select the "Choose File" button to upload your PDF. You can also drag and drop your PDF directly onto the upload area.
Step 2: Compress your PDF to 4MB
Once your file is uploaded, select the compression level you want to apply. PI7 PDF Compressor allows you to choose from four different compression levels: Extreme, Recommended, Basic, and Low.
To compress a PDF up to 4MB, we recommend using extreme compression if the file size is too large.
Extreme compression will give you the smallest file size but may reduce the quality of your PDF. Recommended compression is a good balance between file size and quality. Basic compression provides a moderate reduction in file size while maintaining quality, and Low compression gives you a smaller file size but may reduce quality.
Step 3: Download your compressed PDF
Once you've chosen your compression level, select the "Compress PDF" button. The tool will quickly compress your PDF and provide you with a download link for your compressed file. You can then save the file to your computer or upload it to your website or cloud storage service.
However, if you want to compress a PDF file to a size other than 4 MB, you can use our tools: - "Compress PDF to 1 MB", "Compress PDF to 2 MB", etc.
Conclusion:
Compressing your PDF files can be a great way to improve your website's speed and save storage space. With PI7 PDF Compressor, it's easy to compress your PDFs to 4MB or less without sacrificing quality. Follow the simple steps outlined in this post to start compressing your PDFs today.
Thank you. We hope you find this guide useful.
Subscribe Us On Youtube
Give Us A Suggestion
Suggest us, how we can improve this tool according to your requirements.