Compress PDF to 250kb
If you need to compress a PDF file size to 250kb or less, Pi7 PDF Compressor is the perfect tool for the job. Compressing a PDF to a smaller size is essential in today's digital age, especially when it comes to sharing files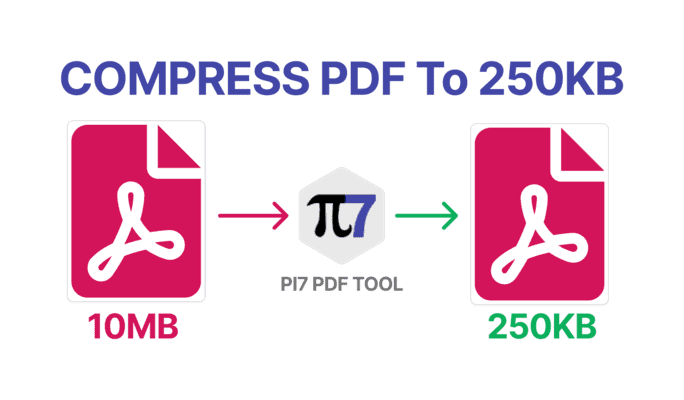 In this guide, we'll walk you through the steps on how you can reduce the size of your pdf file to 250kb.
How to compress PDF to 250kb
Step 1: Choose the PDF file you want to compress The first step is to upload your PDF file to the Pi7 PDF Compressor tool. You can do this by dragging and dropping your file into the upload box, or you can click the "Upload Files" button to browse your files and select the PDF you want to compress.
Step 2: Choose the compression level Once your file is uploaded, you can choose the compression level. Pi7 PDF Compressor offers three compression options: low, medium, and high. For compressing PDF to 250kb, we recommend selecting the medium option. However, if you need to reduce the file size even further, you can try the high option.
Step 3: Start the compression process After selecting the compression level, click the "Compress" button to start the process. Pi7 PDF Compressor will automatically reduce the file size of your PDF to the desired size of 250kb.
Step 4: Download the compressed PDF Once the compression process is complete, you can download the compressed PDF file. Simply click the "Download" button, and your new compressed PDF will be saved to your computer.
However, You can also compress PDF to other sizes using our tool like:- "Compress PDF to 100KB", "Compress PDF to 200KB", etc.
Tips for compressing PDF to 250kb:
Remove unnecessary images and graphics
Convert color images to grayscale
Reduce the DPI of the images
Remove unwanted pages
Use Pi7 PDF Compressor's OCR feature to compress scanned PDFs
Conclusion
Compressing a PDF to 250kb is easy with Pi7 PDF Compressor. With just a few clicks, you can reduce the file size of your PDF without losing quality. By following our tips, you can even further reduce the file size of your PDF. Try out Pi7 PDF Compressor today and see how easy it is to compress your PDF files to 250kb or less.
Subscribe Us On Youtube
Give Us A Suggestion
Suggest us, how we can improve this tool according to your requirements.