Compress PDF to 200kb
The easiest way to compress a PDF to 200KB is to simply upload the file and download it. This is what the Pi7 PDF tool does. Using Pi7 PDF Compressor, you can reduce PDF file size to 200KB or any other specific size as per your requirement. You can process a pdf file in seconds. In addition, it is a free online tool that allows you to compress as many PDF files as you want.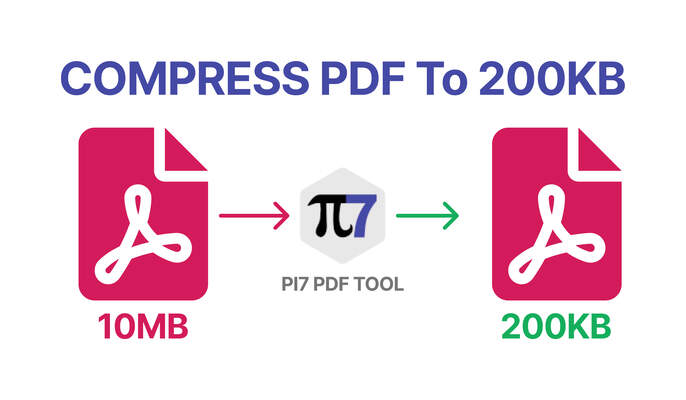 In this guide, we will take a look at how we can reduce a pdf size below 200kb and how we can use the Pi7 PDF compressor tool.
How to compress PDF to 200kb?
In four simple steps, you can compress a pdf file to any size. Just follow the steps given below:-
Upload a PDF file from your device for compression.
Set the PDF size to 200kb in the input box above.
Press the "Compress PDF" button.
Done! download your compressed PDF file.
See, it's that simple to reduce pdf size to 200kb. You don't have to adjust PDF quality because Pi7 PDF Compressor automatically does that. You just need to mention the PDF file size you want and that's it.
Secure Way To Reduce PDF Size
Moreover, All your personal documents are highly secure on our server. After some time of compression, All of your documents will be deleted automatically. So, while reducing pdf size to 200kb feel free and secure.
However, you can also check our "Image To PDF" tool that can also compress a pdf to 200kb while creating a pdf file from JPEG images.
Fast, Free, and Online Tool For PDF Compression
Pi7 PDF Compressor is a fast, free, and online tool. that can compress your pdf file to 200kb. Here, you can process 3 pdf's at a time. But there is no limit to compressing PDF files. You can reduce the size of a PDF file in less than 5 seconds with our tool. You just need to upload the PDF and then wait for it to be processed.
Thank you. We hope you find this guide useful.
Subscribe Us On Youtube
Give Us A Suggestion
Suggest us, how we can improve this tool according to your requirements.